COVID-19  AND YOUR HOLIDAY
The global impact of the Coronavirus affects us all. This exceptional situation brings with it a lot of uncertainty. We will do our utmost to address your concerns as much as possible. A safe stay is our highest priority. Are you planning to stay at Z'ANDvillas soon or have you already booked with us? We will be happy to inform you about recent developments and what that means for your holiday:
You are most welcome in our holiday villas! To enjoy the peace, space and nature. The villas are all detached and situated on spacious plots in the middle of nature. Here you will not find crowds or central facilities, but lots of privacy and space.
MODIFIED BOOKING CONDITIONS
We are also aware that the current measures to combat the coronavirus will not disappear in the short term and that this period will bring a lot of uncertainty. In this particular situation, we therefore apply adjusted booking conditions:
BOOK NOW, DECIDE LATER
Within 14 days after making the reservation, the reservation can be cancelled free of charge, unless the reservation is made 28 days or less before the start of your stay. If you have paid with a Recreational Voucher, you will receive a new Recreational Voucher.
EXTRA REBOOKING FLEXIBILITY
If your holiday cannot go ahead due to the Coronavirus for the reasons below, we offer you the flexibility to rebook your vacation to another period in the case of:
A closed border
Negative travel advice to Zeeland
Quarantine obligation on arrival and/or return in combination with a negative travel advice
The above should be communicated on the official website of the Dutch government or government of the country of origin. The total amount of the booking remains the same or increases. If the modified booking becomes more expensive, you will pay the difference extra. For all other things, our general terms and conditions and cancellation conditions remain in force.
ENJOY CAREFREE: OUR MEASURES
A safe stay is our highest priority, we will inform you about the measures taken:
HYGIENE
We take all necessary precautions to meet the highest standards of safety and hygiene. Before your arrival, the holiday home has been cleaned with the greatest care and we take the following additional measures:
The bed and bath linen is washed and disinfected at 95 degrees.
The hand contact points, the kitchen and the sanitary facilities in your holiday home are disinfected.
For the cleaning of your villa we work with Alphades, a disinfectant that is also used in hospitals, with the Cradle to Cradle Gold certificate 100% safe for people and the environment.
The house will be ventilated for at least 5 hours before arrival.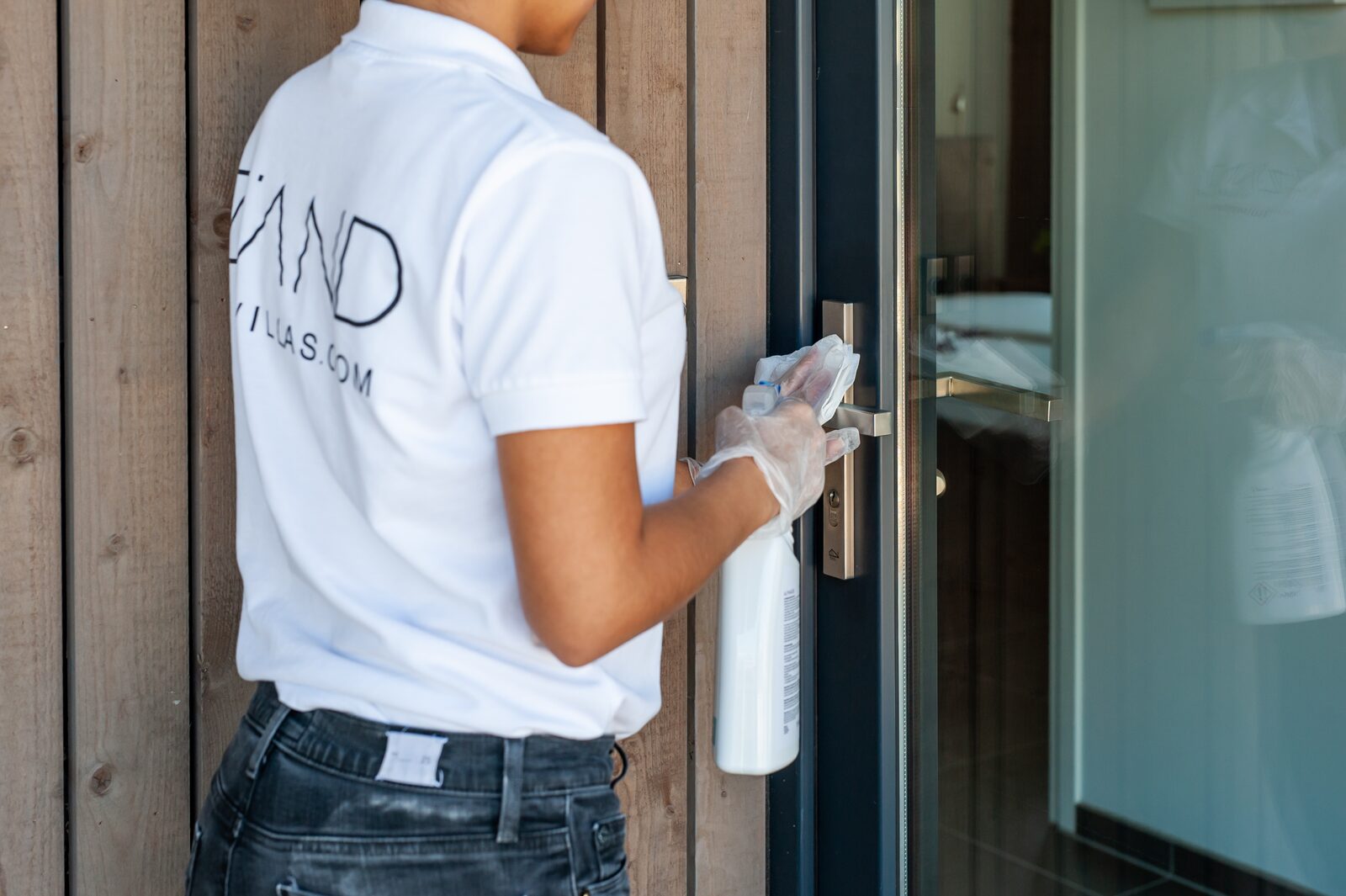 CHECK-IN AND CHECK-OUT
We strive for as little physical contact as possible. On the day of arrival you can pick up the key to your holiday home at the reception from 15.00 hours. Please wear a mask when entering the reception. Our employees wear a mouth mask and are located behind plexiglass. A maximum of one person at a time is allowed in reception. The key will be disinfected before handing over.
Due to the extra hygiene measures, the departure time has been adjusted to 10.00 am. Before departure we will inform you about the adjusted procedure
GROCERIES & BREAD SERVICE
With our shopping service you do not have to leave the villa. In cooperation with Albert Heijn Kamperland your groceries will be delivered to your villa (€ 5,00 delivery costs). Order your groceries for your stay here. Do you prefer fresh rolls for breakfast every morning? Then make use of our bread service, you can pay online and we will hang them at your door in the morning.
FREQUENTLY ASKED QUESTIONS
The Corona virus is still gripping our lives and we understand that this exceptional situation creates uncertainties, especially about your (planned) holiday. Here you will find an overview of frequently asked questions with corresponding answers, clearly divided into various categories for you. We hope that we can remove these uncertainties for you and welcome you soon in one of our holiday villas. Did your question remain unanswered? Feel free to contact us, our staff will be happy to help you.