It is the sun on your skin, the breeze through your hair, the smell of the salty sea and the precious silence. Far away from the masses, in the middle of nature. Here you will come to rest and there is time for reflection. You can recharge and enjoy again in a soothing environment with the comfort and luxury of home. 

The safety region of Zeeland has announced that from the 1st of May we may welcome guests on the Zeeland coast again. We use a special protocol with adapted guidelines for hygiene and safety. As you have come to expect from us, we can also offer you a carefree and safe holiday during this period.
De Groote Duynen is a quiet and small domain without central facilities. The luxurious villas are situated on spacious plots and have a private garden with a spacious terrace where you can enjoy nature and the beautiful views, without coming into contact with other guests.
COVID-19 and your holiday
The global impact of the Coronavirus affects us all. This exceptional situation brings with it a lot of uncertainty. We will do our utmost to address your concerns as much as possible. A safe stay is our highest priority. Are you planning to stay at Z'ANDvillas soon or have you already booked with us? We will be happy to inform you about recent developments and what that means for your holiday:
COVID-19 EN UW VAKANTIE
De wereldwijde impact van het Coronavirus raakt ons allemaal. Deze uitzonderlijke situatie brengt veel onzekerheid met zich mee. Wij doen ons uiterste best om uw zorgen zoveel mogelijk weg te nemen. Een veilig verblijf is onze hoogste prioriteit. Heeft u binnenkort een verblijf gepland bij Z'ANDvillas of bent u dat van plan? Wij informeren u graag over de recente ontwikkelingen en wat dat betekent voor uw vakantie:
Stays from the 1st of May 2020
Stays from the 1st of May 2020
From the 1st of May you can enjoy a well-deserved holiday with us in complete privacy. Our villas are located on De Groote Duynen, surrounded by nature and within walking distance of the sea. Here you will not find crowds, but peace and space. A unique combination of the silence of the land and the dynamics of the sea. The villas are equipped with every luxury and are situated on spacious plots of an average of 1,000 m2. We offer a 5* service, anticipating your personal wishes. For groceries you do not have to leave the villa, you can use our grocery service. And if your holiday by COVID-19 can not go ahead, then we apply more flexible conditions.
Reservations for stays up to 31 August 2020 are subject to the following modified booking conditions: 
Book now, decide later
Within 14 days after making the reservation, the reservation can be cancelled free of charge unless the reservation is made 28 days or less before the start of your stay. If you have paid with a Recreational Voucher, you will receive a new Recreational Voucher.
Extra security until the summer holidays
Book your stay for the summer now, so you can be assured of a wonderful holiday on the coast of Zeeland. In the unlikely event that your reservation cannot be made because of COVID-19, you can move your booking free of charge to a period later in the year. Or you can apply for a recreation voucher, which you can also redeem in 2021. 
For all the rest, our general terms and conditions remain in force.
Additional hygiene and other measures
A safe stay for everyone is our highest priority. We hope for your understanding for some adjustments in this special period. 
Hygiene
We take all necessary precautions to meet the highest standards of safety and hygiene. Before your arrival, the holiday home has been cleaned with the greatest care and we take the following additional measures: 
The bed linen and towels are washed and disinfected at 95 degrees. 
The hand contact points, the kitchen and the sanitary facilities in your holiday home will be disinfected. 
For the cleaning of your villa we work with Alphades, a disinfectant that is also used in hospitals, with the Cradle to Cradle Gold certificate 100% safe for people and the environment. 
The house will be ventilated for at least 5 hours before arrival. 
Check in and check out 
We strive for as little physical contact as possible. On the day of arrival, you can pick up the key to your holiday home from 16.00 at the reception. A maximum of 1 person is allowed at the reception at the same time. For everyone's safety, our employees are behind plexiglass. The key will be disinfected before handover. 
Due to the extra hygiene measures, the departure time has been adjusted to 9.00 am. Before departure we will inform you about the adjusted procedure.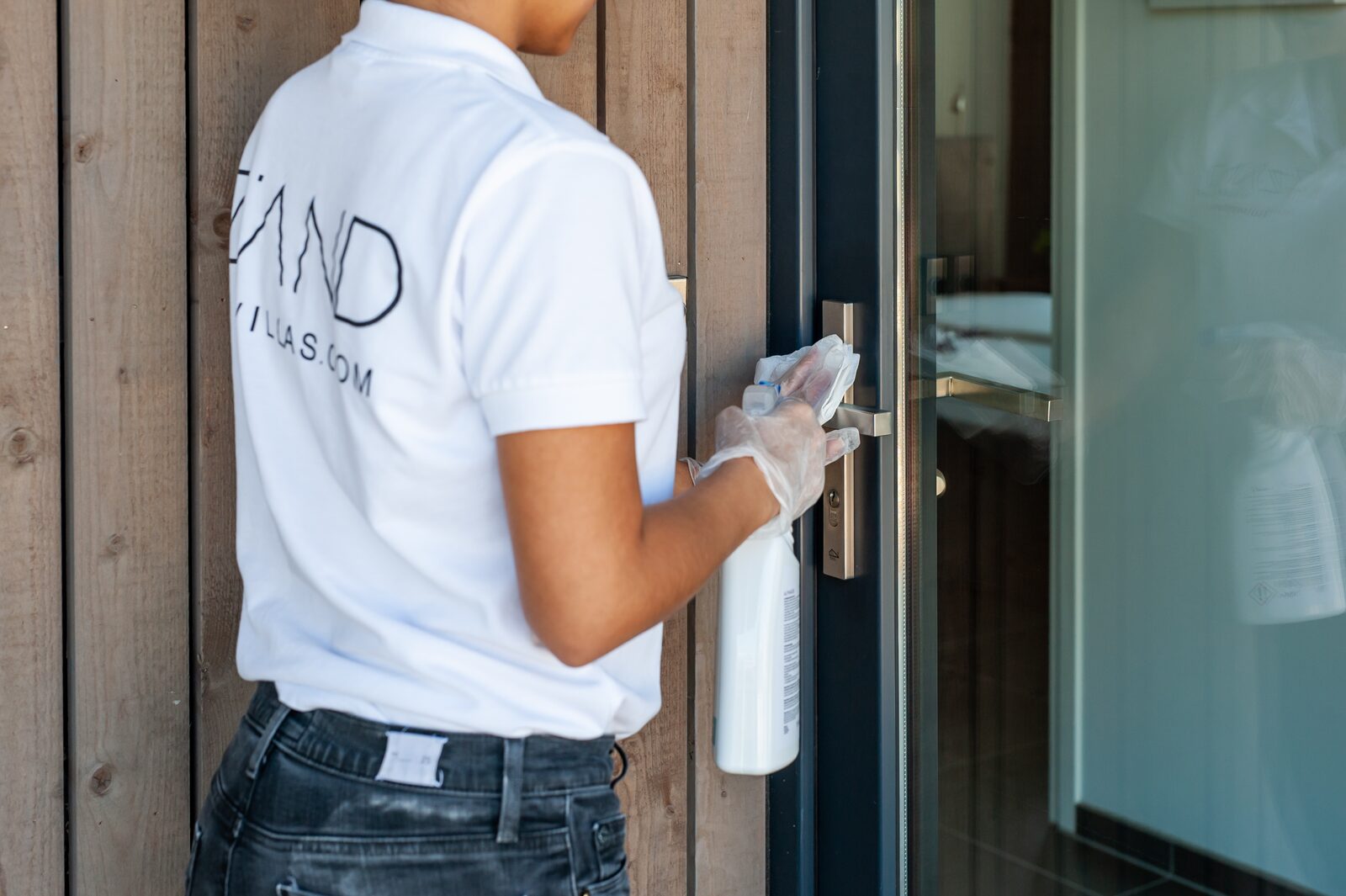 With our shopping service you do not have to leave the villa. In cooperation with Albert Heijn Kamperland your groceries will be delivered to your villa (€ 5,00 delivery costs). Order your groceries for your stay here. Or would you rather have fresh rolls for breakfast every morning? Then make use of our bread service, you can pay online and we will hang them at the door in the morning.
More about the holiday voucher
The voucher is at the beginning a digital credit for the received down payment of the travel sum. You will receive an unique code from us which you can redeem for your next stay. When booking online, you can redeem the voucher by entering the voucher code in step 1 of the booking process. The following conditions apply to the issued vouchers: 
You can use the voucher as a payment method for a new booking via our website up to one year after the date of issue. 
The voucher can be redeemed for a stay up to 1 July 2021.
The voucher has the value of the amount already paid by you. 
If the new travel sum is higher, you must pay the price difference. 
If the new travel price is lower, you will have a remaining credit on the voucher, which you can use for a second booking during the validity of the voucher. 
The voucher is non-refundable or transferable. 
There will be no refund even if you do not use/can not use the voucher.
If you would like to apply for a voucher, please click here. Did you request a recreation voucher? Then you will receive it within two weeks via e-mail.
Heeft u nog vragen over uw (geplande) vakantie en de maatregelen rondom het Coronavirus COVID-19? Op onze pagina met Veelgestelde Vragen hebben wij de belangrijkste vragen voor u verzameld en beantwoord.