A relaxing holiday with a dog
The beach is undoubtedly a wonderful place for dogs. They love walking, running and romping around and we love to see them happy. That is why now you can book one of our  pet-friendly villas, where your dogs are more than welcome to enjoying our beautiful beaches. If you are planning your next holidays with dogs check our new offers and enjoy the ZAND experience with your best friend. 
Search & Book
2 guests
+ 0 babies
+ 0 pets
Select a stay period
Verfijn uw zoekopdracht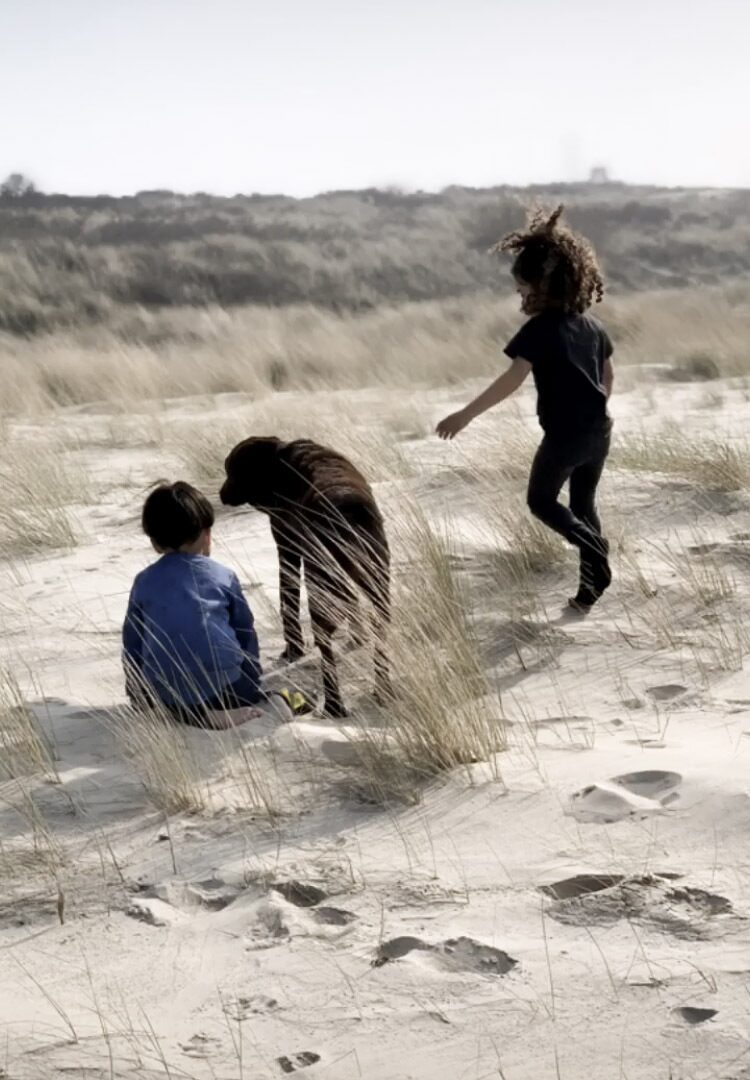 Tips for a successful holiday in Zeeland with a dog
It is of course wonderful that you can take your dog with you on holiday to Zeeland. Do you want tips for a successful dog holiday?
1. Getting a breath of fresh air on the beach
The beach is always a wonderful place to be, for both yourself and your dog. In the summer holidays, but also in the autumn holidays, Christmas holidays, spring holidays or May holidays. But also for a short luxury holiday it is great to book a holiday villa on the beach. In every season it is pure enjoyment to stay on the beach. You can get a breath of fresh air and relax while your dog enjoys the space to run. 
2. Active and healty
Your dog will keep you active. A dog needs a lot of exercise and that's why you keep moving. Go out and enjoy long walks on the beach. Or take a nice bike ride through the dunes or on one of the many cycle paths in Zeeland. 
3.Take a nice evening walk
Enjoy the setting sun while you and your dog take a nice evening walk. Nothing is more beautiful than walking along the wide beach with your dog while watching the sun set over the sea. 
4. Relax in your luxury holiday villa
After hours of walking in the fresh air, you and your dog deserve some rest. The luxurious holiday villas of Z'ANDvillas give you all the peace and space you need to relax. Experience the purest form of wellness in your own holiday villa. Comfort and stylish elements are central in our luxury holiday villas. Z'ANDvillas guarantees a carefree holiday on the Zeeland coast. 
Book your luxury holiday home by the sea in Zeeland now
Enjoy a relaxing holiday by the sea in a luxury holiday villa of Z'ANDvillas on De Groote Duynen. Are you looking for a luxury holiday home during Ascension Day, Whitsun or maybe during the holidays? And would you like to take your dog with you on holiday? This is also possible at De Groote Duynen. In many holiday homes your dog is very welcome. Do not wait any longer but book your holiday home Zeeland with your dog directly at Z'ANDvillas.
Holiday home Zeeland with dog
There are more luxury holiday homes in the Netherlands. But the holiday villas in Zeeland of Z'ANDvillas are very special. The luxurious 4, 6 and 8-person holiday homes in Zeeland of Z'ANDvillas are within walking distance of the North Sea beach. Some villas have a Finnish or infrared sauna and a private beach house. And did you know that several holiday villas even have a jacuzzi? Your own cottage with jacuzzi, pure enjoyment! But what makes the luxury holiday villas of Z'ANDvillas so special is that in most cases your dog is welcome. 
Boek hier uw vakantie huis met hond!