Luxury holiday homes with sauna
Imagine a cold day during winter season... you are taking a long walk along the wide North Sea beach, completely blown out with red cheeks, but as you return to your luxury villa at De Groote Duynen. Your private sauna is waiting for you, the perfect space where you can warm up and relax. Just a moment to take care of yourself with the ultimate wellness experience.Z'ANDvilla's has a wide range of holiday homes with sauna, both Finnish and Infrared saunas. 
Search & Book
2 guests
+ 0 babies
+ 0 pets
Select a stay period
Refine your query
VILLA FOR RENT WITH SAUNA IN ZEELAND
Rent a holiday cottage with sauna in Zeeland, that's what you do at Z'ANDvillas! We offer you a wide range of wellness holiday homes by the sea in Zeeland. Rent a cottage for 6 or 8 people with sauna at Z'ANDvillas and enjoy the ultimate wellness experience in your private infrared or Finnish sauna. The sauna is located in the bathroom or storage room of your holiday home. But you can also fully relax outside! For example, you can rent a villa with jacuzzi in the garden. Here you can cool down in summer after a hot summer day and warm up in winter after a winter walk. Pour yourself a glass of bubbly and dream away at the beautiful view over the Zeeland landscape. That is a holiday!
RELAX IN THE MOST BEAUTIFUL WELLNESS AREA OF ZEELAND
Enjoy your wellness holiday in Zeeland and visit the wellness of Athermen Zeeland, just a few minutes walk from your luxury holiday home at De Groote Duynen. After a spectacular renovation, Hotel De Kamperduinen opened his doors at the beginning of December. The restaurant has undergone a complete metamorphosis and BLUE Wellnessresort Zeeland has been realised, where you can enjoy the optimal wellness experience.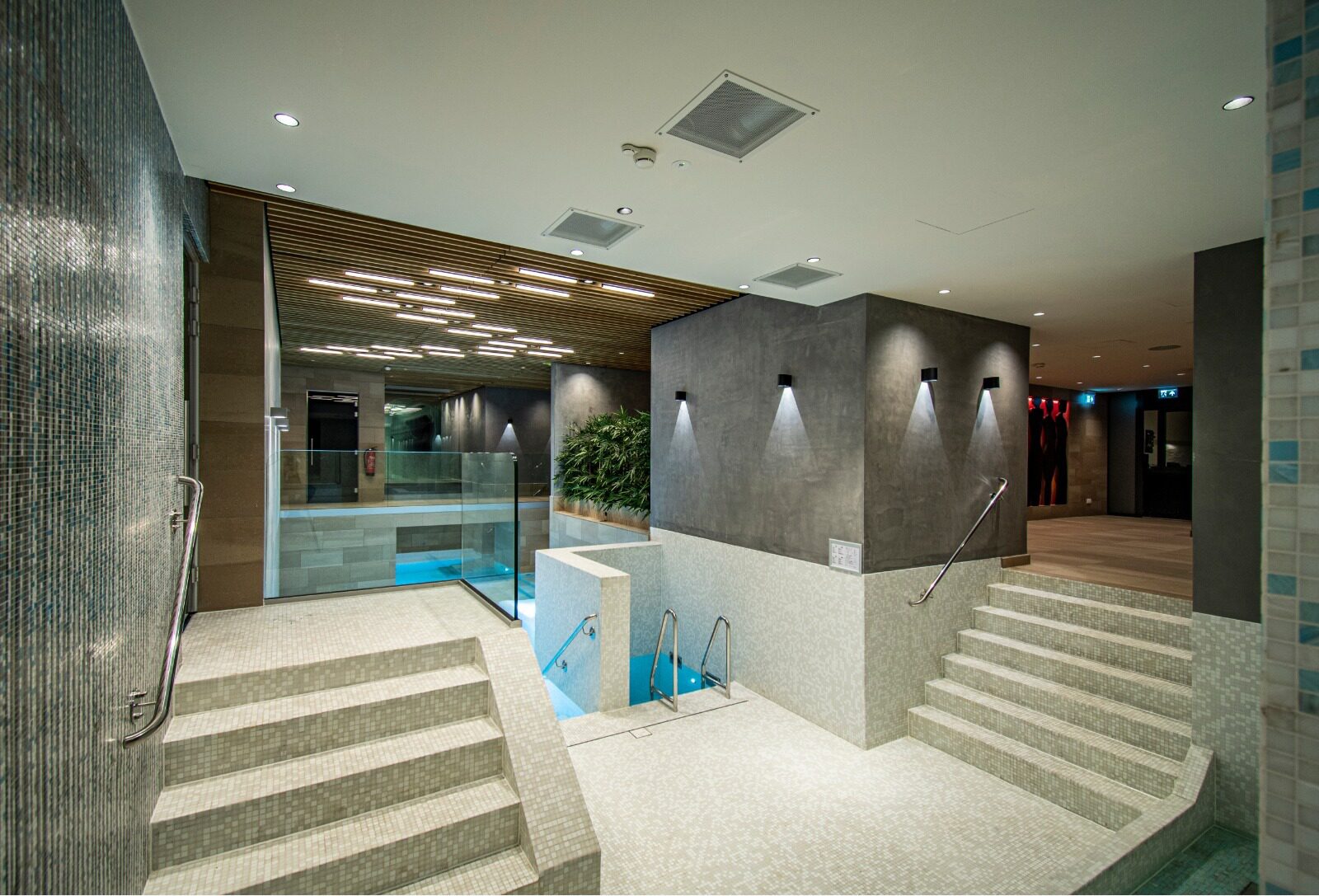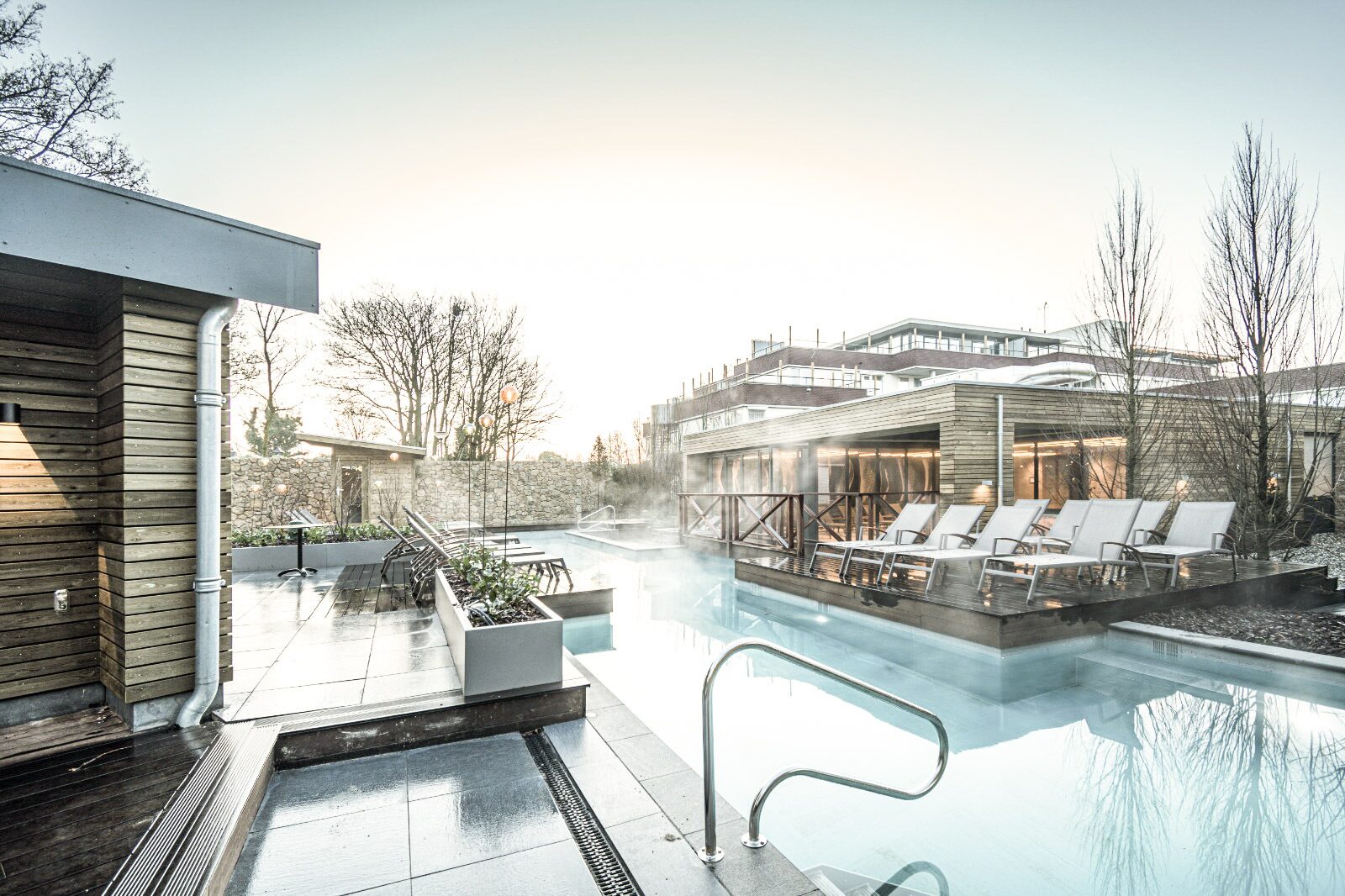 5 REASONS TO VISIT ATHERMEN WELLNESS IN CAMPERLAND
BLUE Wellnessresort Zeeland with 7 different saunas is a paradise for sauna lovers! There is a Kelo sauna, a panorama sauna with a beautiful view of the garden and a casting sauna where casting sessions take place several times a day. Or opt for the authentic Finnish relaxation sauna, where your skin is warmed by the fire-heated stones in the sauna.
In the wellness centre you will find several swimming pools with a constant water temperature of 30 degrees. The pool runs from inside to outside, so you can enjoy wonderfully warm water all year round.
BLUE Wellnessort Zeeland offers a wide range of relaxing massages. For example, choose a relaxing massage, a hot stone massage or a Lomi Lomi massage, which has its origins in Hawaii.
BLUE Wellnessresort Zeeland has various relaxation areas and an attractive wellness garden. The garden is beautifully laid out with various tropical plants and beautiful seating. Here you can relax in a tropical atmosphere.
From the wellness centre you have exclusive access to the wellness restaurant of the restaurant De Kamperduinen. Here you can enjoy a tasty lunch, a substantial dinner or a cup of coffee with something delicious. All dishes are prepared with regional products and of course fresh fish from the waters of Zeeland is a must!
Book here your luxury holiday home with sauna and jacuzzi
Frequently asked questions about a holiday home with sauna
✦ Where can I book a holiday home with Finnish sauna?
At Z'ANDvillas! We have various holiday homes with a Finnish sauna. Perfect for a relaxed beach holiday on the coast. Our holiday homes with Finnish sauna can be booked for up to 8 persons.
✦ Where can I book a home with sauna in Zeeland?
You can book a home with sauna in Zeeland at Z'ANDvillas. We have various luxurious holiday homes with an infrared or Finnish sauna. In these homes you can fully unwind. For even more relaxation, you can book our Body & Mind Specials.
✦ Where can I find a holiday home with sauna in the Netherlands?
You'll find it in Zeeland! Our holiday park is on the coast. After a lovely walk over the beach you can warm up in your own luxurious holiday home with sauna in the Netherlands. Zeeland is the ideal destination in the Netherlands for a holiday home with sauna, when will you book?
✦ Where can I find a wellness home?
At Z'ANDvillas we have a wide range of wellness homes for up to 8 persons. These homes have a Finnish sauna, or an infrared sauna, or a jacuzzi. In short, you can have a wonderful relaxing time during your holiday in a wellness home at Z'ANDvillas.
Our guests rate this accommodation with an average of 9.3.